Boat Gelcoat Repair in Fort Lauderdale, Florida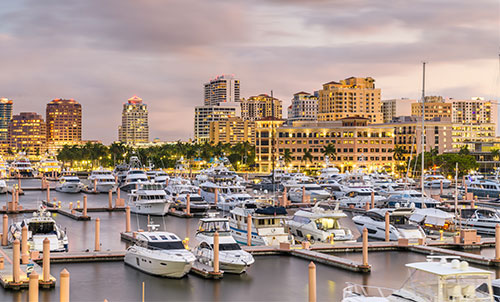 Your boat's gelcoat is the polished outer layer protecting your fiberglass boat. Your gelcoat gives your boat the shine, polish, and look of a new boat. Sun, saltwater, and the elements, over time, will cause the gelcoat to lose its shine. As the gelcoat deteriorates, it can become more porous, causing staining and potentially exposing the lower layers of paint and the hull to damage, rust, and the elements. While it is possible to repair the gelcoat of your boat on your own, the process can be involved and certain aspects of gelcoat repair are best left to the professionals. If there's damage to the gelcoat on a diamond nonskid or on a multitone finish, you might want to hire a professional boat detailing service to help you with your boat gelcoat repair. Even if your gelcoat repair isn't particularly complex, it can still be an involved process. Contact our Fort Lauderdale, Florida boat detailers for boat gelcoat restoration services today.
Getting a gelcoat job to look like new can be a complex process. Boat gelcoat restoration can vary in complexity depending on the type of surface you are treating. What steps will your professional boat detailer take when repairing your boat's gelcoat? And what steps would you need to do if you were thinking of performing a gelcoat repair on your own? Before you get in over your head, let's explore the steps involved and look to where a professional can help:
Cleaning your boat. Cleaning your boat is the first step in gelcoat repair. But cleaning is not enough. When cleaning the surface of your boat, you'll want to inspect your boat for signs of damage. Look for cracks and other indications that repairs might need to be made. A professional boat detailer can look closely at your hull to make sure that you're addressing underlying problems and not just covering up problems that could lead to problems of structural integrity later.
Clean stains. Sometimes soap and water isn't enough to remove all the stains. This is where deeper cleaning work might need to be done. Deeper stains penetrate deeper into your gelcoat surface. Acid-based stain removers can remove these deeper stains, but it is important if you plan to do this work yourself that you wear protective equipment like rubber gloves, eye protection, and that you are careful when using a stain remover so it doesn't dull your boat's paint job or varnish. Over time, your whole boat might become stained, resulting in duller colors. There's no point in doing gelcoat repair to make a boat look new, and then having an underlying dull color beneath, so you may need to perform the stain-cleaning process on the entire boat. Be prepared for an involved job.
Unfortunately, not all stains are organic. Some stains occur due to rust, mold, certain kinds of animal droppings, and exhaust. You may need to purchase specific stain removers to address each of these stains. A professional boat detailer performing your boat gelcoat repair will be able to differentiate between the different types of stains on your boat and use the right stain remover to get your boat looking like new.
When it comes to polishes, you can use a more abrasive polish or less abrasive one. If your boat has a lot of oxidation, you may need a more abrasive polish. But the downside to using an abrasive polish is that you run the risk of removing your boat's already existing gelcoat. A professional boat detailer will apply the polish usually by machine, and touch up areas by hand. If you're doing it yourself, you'll likely do it by hand unless you're going to buy the equipment for the job. However, there are risks to using polishing machines when you don't have experience. For example, you can polish right through your boat's gelcoat! So be careful and consider hiring a professional detailer if you are not committed to doing the job by hand.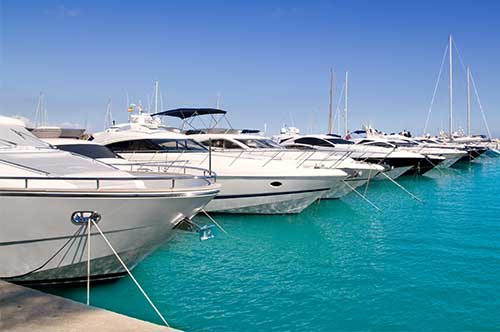 After polishing the boat, you'll want to give it shine with wax. Wax is not the only option, and some boat owners choose to use a longer-lasting ceramic coating. A professional boat detailer can help you understand the range of wax options available to you, including longer-lasting options that can give your boat a longer-lasting shine.
Again, these steps are used in most parts of the boat, but in non-skid areas, using these techniques could leave your non-skid areas without the traction you need, so be careful. When it comes to boat gelcoat repair in Fort Lauderdale, Florida many boat owners turn to a professional to get their boat gelcoat restoration job done. If you are looking to sell your boat, or want to protect the value of your investment, a professional boat gelcoat repair will give your boat that like-new look, without the stress of doing it yourself. Have questions? Consider reaching out to our professional boat detailers today to learn about our boat gelcoat restoration services. We are here to help you get your boat looking like new.